It's an exciting time having a school starter. There's lots of change in the air and lots to do. It can be somewhat daunting for the little ones so I thought I'd put together some (mostly) Devon gifts that will help the transition and give them some fun this holiday.
Some of these links are affiliate links. The affiliate link means I might earn a small amount if you click through and then buy the book within a certain timeframe. It has absolutely no effect on the price you pay, but it will be a little token and help me to keep creating great content for you to enjoy. Thank you so much for supporting me.
The tale of starting school
This is a beautiful book created by a teacher for the school starter to feel familiar with their new school and new routines before they begin. It reassures our little ones by giving them control and knowledge of what's coming up ahead – which couldn't be more important this year when many children won't have had the familiarisation sessions that children used to have. This one isn't from Devon, but it's so gorgeous I just had to include it for our children. I've bought it for mine and love it. I've printed the photos of teachers that she will have, of where she'll put her bag and what the toilets are like – all the things that our little people might be worrying about. Now i can't wait to sit down with her and have some quality reassuring time together sticking in all the pictures and chatting about school.
The Gift: A Starting School book to personalise at home
The Price: £21.99
LittleDevonDiscount code: LITTLEDEVON10 as the code to get 10% off
Buy it from etsy here: The Tale of Starting School Book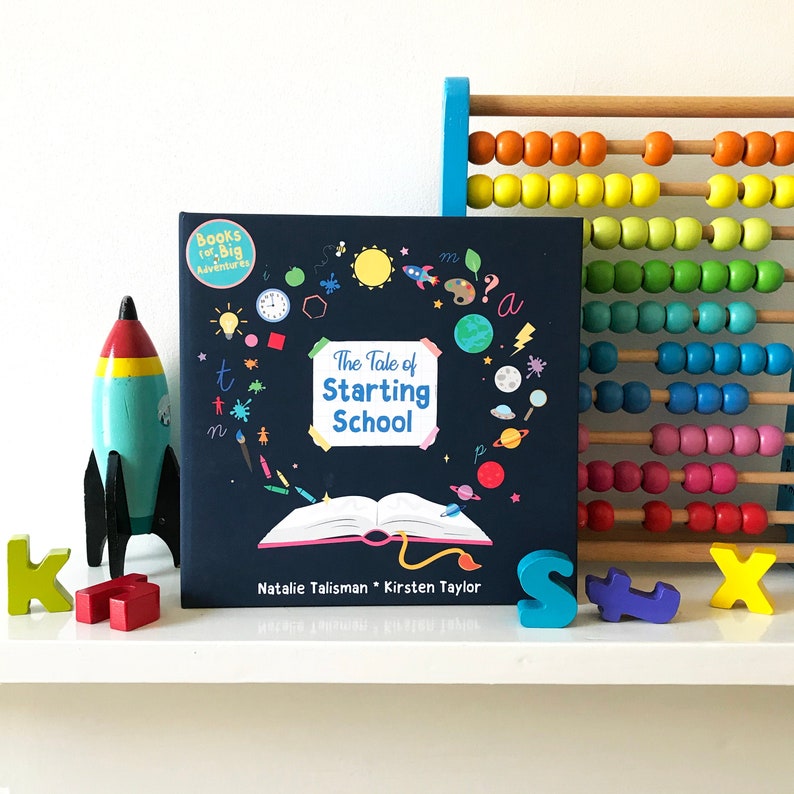 School hair accessories
It's going to be quite a change going from choosing their clothes everyday (if yours are as opinionated about it as mine!) to wearing the same thing daily. At least they can choose their hair accessories! These beautiful ones are from Sidmouth mummy 'Top to Bow Boutique' and they're such a lovely little pressie for that first day of school.
The Gift: School Hair accessories
The Price: Button snap clips snd bobbles are £2.85 a pair
LittleDevonDiscount code: DEVON15 as the code to get 15% off
Buy it on etsy here: School button bobbles and School button snap clips
School Starters summer photography activity game
Little Lens Photography has teamed up with Every day's a School Day to make a school starter photography pack. Lots of fun games to play specifically to reassure and prepare children before they start school and all with a photographic twist. If your children are anything like mine, they'll love the opportunity to grab your phone and take some pics, meanwhile they're practicing skills needed for school – bonus! Activities include: About me – My favourite things, Pull a Selfie, Find your name, Story time, Eye Spy, Family Photo, Scavenger Hunt, My School Uniform. Little Lens Photography has also created a pack that is not school starter specific if you have any older siblings that would like one too.
The Gift: A Photography Challenge pack with games specifically for school starters
The Price: £4.79
LittleDevonDiscount code: LITTLEDEVON as the code to get 10% off
Buy it on etsy here: School Starters Summer Photography
Photography activities (not school starter specific)
School Starters' Planner
This one isn't for the children but for us parents – but happy, organised parent, happy child! This School Starters' Planner by Every Day's a School Day is a great diary but with a school orientated twist to help us parents feel prepared for the start of school and as organised as possible through out the year. It includes what's coming up in the month ahead with special days that schools might like to celebrate and lots of top tips to keep you on top of school admin. Made by a Head teacher and mummy to a school starter last year and is Exeter based. I've started to populate mine and absolutely love it and is making me feel like even I can potentially keep on top of all the school admin – eek!
The Gift: A diary for parents of School starters
The Price: Monthly view: £10.00 or Weekly view: £13.00
Buy it from amazon here: Monthly view or Weekly view
Monthly view
Weekly view
Squid & The Kid
A fabulous new Kids Lifestyle Store in Topsham. Alice & Alex have filled their shop with beautiful, fun and independent brands with a special emphasis on supporting mum creatives who juggle family life alongside the creation of beautiful products. We love them even more now as they are offering us all a 'back to school' 10% discount on all their products for a lovely gift for our little ones… if you're feeling brave you could even take them in to choose their own pressie! (pre-warning – there are soooo many lovely things in there!)
Alice & Alex met as new mums who had both moved to Devon to start a new life with their families. Bonding over coffee, cake and mum life, conversations would always turn to their dream of opening a kids shop, one centred around community and kindness. It's now open and is fabulous!
The Gift: Anything from Squid & The Kid
The Price: ummmm depends what you/they get!
LittleDevonDiscount code: mention LITTLE DEVON for a 10% discount from Monday 30th August to Monday 6th September
Find them in Topsham here: 21 Fore Street, Topsham, EX3 0HE